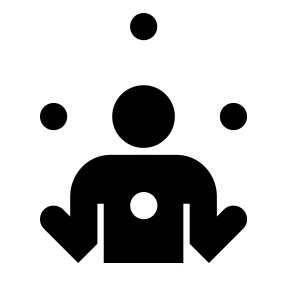 I have been working as a project manager for NYU's Digital Library Technology Services (DLTS) since 2003, when I was asked to manage the Afghanistan Digital Library project. The following year, I took on the Hemispheric Institute Digital Video Library project. I continue to manage both initiatives, as well as other projects at NYU Libraries. In 2010 I developed a project portfolio management process for DLTS and subsequently wrote Project Portfolio Management for Academic Libraries: A Gentle Introduction.
I gained my project and portfolio management expertise almost exclusively through trial and error (plenty of error). I've attended several project management trainings and workshops over the years. But I have found that, like much of the PM literature, formal PM training frequently emphasizes a corporate perspective which is not always applicable to a research library setting.
I speak, write, coach, and teach about project management and portfolio management in academic libraries. See my research page and curriculum vitae for citations to my work.
Examples of my Project Management Work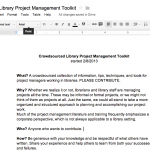 I started the Crowdsourced Library Project Management Toolkit, a collection of information, tips, techniques, and tools for project managers working in libraries. Please contribute!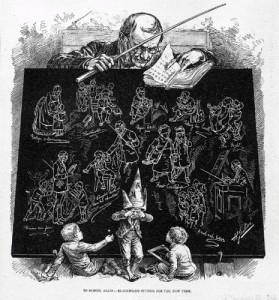 Introduction to Project Management for Libraries Workshop
Electronic Resources & Libraries, Wed March 20, 2013, 1:00–5:00pm. In this hands-on workshop, learn the basic theories and practice of project management for library projects. Working on real-life projects of their own choosing, workshop participants will learn and practice the key concepts and techniques for planning, organizing, managing, and completing projects in a library setting. Using simple, freely-available tools, attendees will leave the workshop with a project charter– including a scope statement, deliverables, and milestones–as well as a project plan specifying tasks on a timeline and assigned resources. This workshop will also touch on related topics such as agile project management and portfolio management.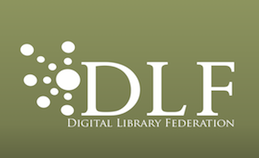 In 2008 Delphine Khanna (Head of Digital Library Initiatives, Temple University) and I started the Digital Library Federation's Project Managers group an informal special interest group that meets at the DLF annual forum. We founded this group to give digital library project managers a place to discuss practical issues and seek advice from peers. It remains an active and sharing community, and we welcome newcomers to our listserv and our meetings.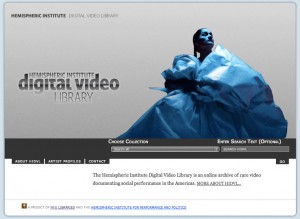 The  Hemispheric Institute Digital Video Library, a collaboration between NYU's
Digital Library Technology Services and NYU's Hemispheric Institute of Performance and Politics, provides a digital venue for documenting and preserving the expression of social and political life through performance in the many cultures and political landscapes of the Americas. The HIDVL brings together in one place materials that have been available only in small, little-known archives that are inaccessible to scholars and that lack the resources to properly care for and provide access to these extraordinary cultural documents. This project was generously funded by the Mellon Foundation.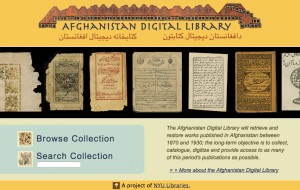 The goal of the Afghanistan Digital Library is to collect, catalogue, digitize, and provide access to as many works as possible published in Afghanistan between 1870 and 1950. During the second ADL funding cycle, we sent a small team to Afghanistan's National Archives in Kabul for a month to develop a digitization lab and a conservation lab, to train staff on digitization and conservation techniques, and to scan materials relevant to the ADL project. While quite complex to manage, this project was ultimately a very successful collaboration with the Afghanistan National Archives staff and many other generous partners. The ADL was twice funded by the National Endowment for the Humanities. In 2013 the Voice of America did a feature on the Afghanistan Digital Library and I'm in it!